Not simply a classic Dutch tulip bouquet
The Bulb Bouquet is not simply a classic Dutch tulip bouquet, but offers a bit of a twist. These tulips retain their bulbs, which is why it's called the Bulb Bouquet. We would like to tell you more about these tulips.
Bulb Bouquet tulips are hand-picked and bound in an artisan way. By retaining the bulb, it can stand up independently. It keeps the flower stronger, so that you can enjoy it for even longer. It doesn't matter where it's displayed, because a Bulb Bouquet can be placed both indoors and outdoors.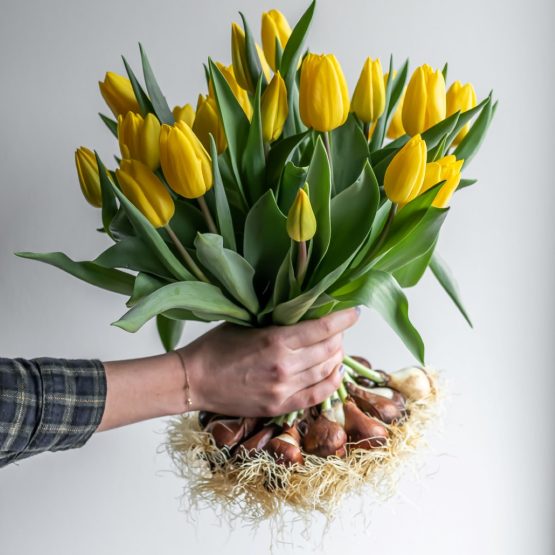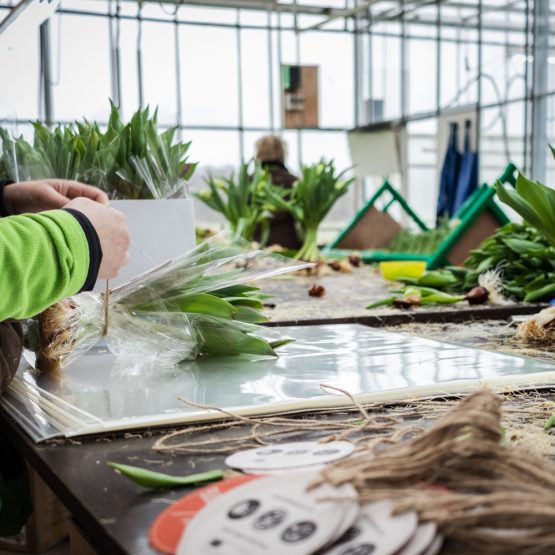 Direct from the grower
Our tulip buyer Mark de Mooy buys these tulip bouquets directly from the grower, where they are picked fresh every day. They come in a range of colours, varieties and sizes. You can find them in our webshop!
Care
Indoor care
The Bulb Bouquet can happily be displayed in its packaging. That looks great. Or place it in a bowl or in a pot. It does need to be given water regularly. A depth of about 1 cm at a time is more than enough, because the bulb should not be completely underwater.
Outdoor care
The Bulb Bouquet can also be placed outdoors, but preferably out of the wind. Place it firmly in a pot or amidst other plants to provide a bit more protection for the Bulb Bouquet. It doesn't even matter if you have a couple of degrees of frost, because it will continue blooming after the frost. But if it rains very heavily, you need to remove the excess water. The Bulb Bouquet usually lasts some 4 to 6 weeks outdoors.
Tip: When the bouquet has finished blooming indoors, plant the bulb(s) in the garden for more enjoyment in the future!